Scope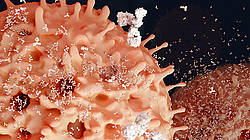 B cells are lymphocytes that play a key role in both the innate and adaptive immune response. The principal functions attributed to B cells is their ability to differentiate into plasma cells that secrete antibodies against antigens, and eventually develop into memory B cells. Long-lived plasma cells (PC) and memory B cells are the cells responsible for maintaining serological memory against childhood vaccines or infections previously met in life. However, as appreciation of the multifunctional nature of the B cells grows, their importance to health and disease is re-evaluated.
An increasing emphasis is being placed on studying the multiple interactions of the microenvironment with differentiating B cells, from the earliest progenitor stage to fully differentiated plasma cells. Microenvironmental "cues" encompass signals from commensal microbiota and stimulatory and survival factors derived from interacting cells. In normal individuals, the pool of peripheral B cells is constant in size. The control of B, PC and memory B cell homeostasis is the result of a very fine balance between their maturation, proliferation and survival. Micro-environmental factors have been shown to play a critical role in maintaining lymphocyte homeostasis. Pathways and mechanisms that govern normal differentiation and survival of B cells can sometimes become dysregulated and drive pathogenic processes such as hematopoietic malignancies and autoimmune diseases.

A variety of techniques are disposable for studying the regulation of B-cell maintenance and survival in health and disease. These techniques and methodologies span a broad range of "classical" disciplines such as bacteriology, virology, cell biology, immunology, histology, biochemistry and chemistry. In addition, high-throughput sequencing, mathematical modelling and informatics will be applied expanding the multidisciplinary aspect of this proposal beyond methods of classical biology.
In this conference we will bring together eminent clinicians, biologists, mathematicians, biophysicists to discuss the explosion of paradigm-shifting discoveries in B cell biology and their relevance to healthy immunity. Basic mechanisms of B cell survival, differentiation, effector function and death will be reviewed during this event. We will also focus on how alteration in these pathways may lead to pathology and to the abnormal B cell responses observed in cancer, infection and autoimmunity. Some of the invited lectures will illustrate how the elucidation of molecular pathways operating in B cells and governing proliferation, homeostasis and cell death may lead to novel immunotherapeutic strategies to ameliorate pathological conditions in experimental models and humans.